Expert Staging
These three different vacant properties, pictured below, are a great example of how unfurnished homes can often look the same in the listing photos and get lost in a buyer's search. Without furnishings, buyers can't distinguish one home from another. None of the homes stand out or make it onto their "must see" list. Take a good look at the three rooms in the photos below…


You really can't tell what they are, can you?
Three different rooms, a master bedroom, living room and dining room, in three different vacant homes will look nearly identical to buyers online.
Regardless of price point, staging vacant homes is important to initially capture buyer interest and take them from the online listing to the front door. Once there, a well-staged home will help buyers emotionally connect to the property, ultimately taking their interest to the next level with an offer.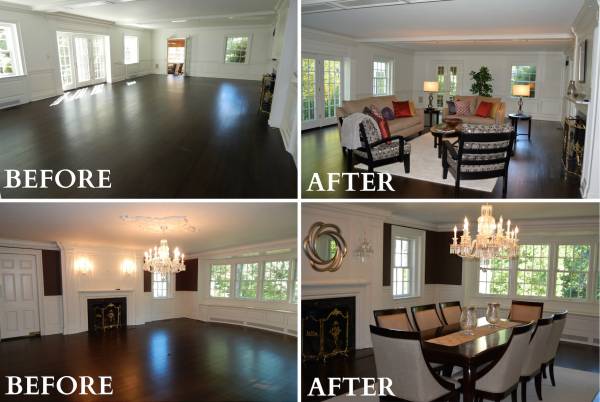 Most of the time buyers don't have the vision to see what a room can look like. Larger vacant homes in particular can discourage buyers, who may think they don't have enough pieces to furnish the home.
A professional stager knows how to appropriately furnish a home, selecting the right sized pieces, colors and fabrics. Buyers see an inviting home, rather than a large vacant space, and get ideas on how they can arrange their furniture in the home. Ultimately it [staging] makes the home more saleable."
Still need convincing? Keep these insights in mind…
It will sell faster. A vacant property can take up to 78 percent more time to sell than comparable furnished homes, according to the Real Estate Staging Association.
Buyers will see it as their home. Only a few buyers can visualize a vacant room decorated and furnished. The majority of buyers, on the other hand, cannot envision how they will live in the home or use a room.
They'll stay longer. During a showing of a vacant home, I've found that buyers unable to connect with the space will only stay on average 5 minutes, compared to an average 40 minutes in a furnished home.
Their furniture will fit. Empty rooms look smaller to buyers, who more often than not will think their favorite sectional or king-sized bed is too big. In larger homes, buyers will question if they have enough furniture. Either way they'll be calculating the additional cost of new furniture rather than focusing on the home.
Details stand out. Architectural details and key features can stand out when a home is professionally styled and staged whereas empty rooms put a spotlight on flaws or needed repairs.
We'll bring in a designer to stage your home. The more buyers your home appeals to, the faster it will sell—and for the most money (the equity increase for a staged house over those which are not staged is nearly 6%). Whether your home needs a simple paint consult or a total overhaul, our staging works wonders to heighten the allure of your home.